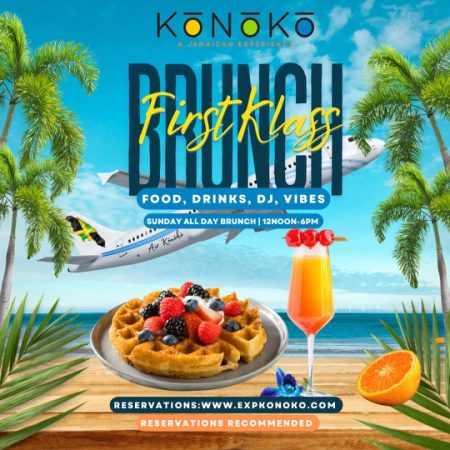 Date & Time:
Brunch will be served every Sunday, from 12pm-6pm.  The DJ will play music from 2-6pm each Sunday.  The DJ music schedule is subject to change based on holidays. Call to confirm performance schedule.
Cuisine:
Jamaican and American Brunch Flare: Menu Items will include but not limited to: Jerk Chicken and Belgian Waffles, Jerk Lamb and Belgian Waffles, Ackee & Saltfish, Seafood Pasta, House Salmon, Oxtail, Curried Goat, Red Snapper, Mimosas and Mimosa flights.
Suggested Dress Code:
As a friendly reminder, Kōnōkō, White Marsh enforces a smart casual dress code. Please note, sleep wear clothing, hair sleepwear, men tank tops, hoods over the head, or overly revealing clothing are not permitted.
Table Holding Policy:
For guaranteed seating we recommend making a reservation at least 72 hours in advance. Walk-in availability is limited. A wait may be associated with walking in. All reservations require a card on file. The cardholder will be charged a $25 late cancellation fee or no show fee. For parties larger than 7, there is a $10 per person deposit required. 
Party Size:
For Sunday Brunch, we can not accommodate parties larger than 10, this includes children. Making two separate reservations, with two separate names will not guarantee that both parties will be in close proximity to each other and the restaurant will not make special accommodations for those requests as our reservation system is designed to maximize seating. You will not be able to add any additional guests once your party is sat.
Child Policy:
Not generally a kid friendly atmosphere. But limited kids menu options are available.